Kosten Foundation's Kick It 5K Giving Away Free Earbuds
Register before October 7 to support pancreatic cancer research and be entered to win
Memphis, Tenn., September 16, 2021 –The Kosten Foundation announced participants that register for their 11th annual Kick It 5K race before October 7 will be eligible to win a pair of Jaybird Vista earbuds. Runners, walkers, and supporters can register for $30 on the event website at https://kickit5k.raceroster.com/. All proceeds go towards funding pancreatic cancer research.
"We have always been grateful for the outstanding support the Kick It 5K receives every year from the community," said Alan Kosten, Chairman of the Kosten Foundation, "This year since we are returning to an in-person event, we hope to make an even bigger impact in the fight against pancreatic cancer."
The Kosten Foundation's November 7 race will be presented by Baptist Memorial Health Care. Last year's virtual event raised more than $115,000 which helped the Kosten Foundation fund four pancreatic cancer research teams in Memphis, Texas, and New York.
Participants can look forward to live music, a pre-race ceremony honoring pancreatic cancer survivors, and more. Memphis radio legend Ron Olson will serve as emcee for the 5k as well. Anyone interested in participating in the race or donating to pancreatic cancer research can do so on the event website at https://kickit5k.raceroster.com/.
Since 2003, the Kosten Foundation has donated more than $2.4 million to pancreatic cancer research programs across the country The Foundation hosts a free monthly virtual support group meeting for pancreatic cancer patients, survivors, and anyone else affected by the disease. For more information about the Kosten Foundation and their mission, you can go to their website at kostenfoundation.com.
PHOTOS:
https://www.dropbox.com/s/18y7uvanaaxbr7a/Baptist-2021-KickIt5K-Logo.png?dl=0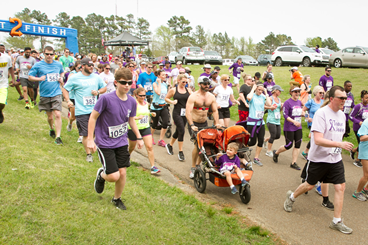 Kosten Foundation Supporters Take Off from the Starting Line at the Kick It 5K.
https://www.dropbox.com/s/hlypavboxz9xson/KickIt5K-2017-36.jpg?dl=0
To learn more visit:
https://www.kostenfoundation.com/kick-it-5k/
The Kosten Foundation can be found online at:
https://www.kostenfoundation.com/
https://www.facebook.com/KostenFoundation/
About the Kosten Foundation:
The Kosten Foundation for Pancreatic Cancer Research was founded in 2003 by the family of Herb Kosten after his death due to pancreatic cancer. Kosten's family sought to improve community support, awareness, and funding for pancreatic cancer, one of the deadliest known cancers. The organization has donated more than $2.4 million for pancreatic cancer research and hosts a very active monthly support group meeting for patients, their families, and anyone interested in learning more about pancreatic cancer. The Kosten Foundation hosts an annual Kick It 5K has grown to include more than 2,500 participants. Money raised from the 5K and other Kosten Foundation events helps fund pancreatic cancer research. For more information about the Kosten Foundation, its programs, and events, visit the website at kostenfoundation.com.
ABOUT BAPTIST MEMORIAL HEALTH CARE
Baptist Memorial Health Care is one of the country's largest not-for-profit health care systems and the largest provider of Medicaid in the region. The Baptist system, which offers a full continuum of care to communities throughout the Mid-South, consistently ranks among the top integrated health care networks in the nation; comprises 22 affiliate hospitals in West Tennessee, Mississippi and East Arkansas; more than 5,000 affiliated physicians; Baptist Medical Group, a multispecialty physician group with more than 750 providers; home, hospice and psychiatric care; minor medical centers and clinics; a network of surgery, rehabilitation and other outpatient centers; and an education system highlighted by the Baptist College of Health Sciences. The Baptist system employs more than 18,000 people, and in fiscal year 2016, contributed $242,935,216 in charity care and community benefit to the areas it serves. For more information, please visit www.baptistonline.org or follow us on Facebook or Twitter.
###